Collaborative spaces

Welcome to the collaborative spaces homepage !
This portal provides EUTOPIA communities and working groups with digital workspaces for collaboration between academics, students, university staff and extra-academic stakeholders !

To access your spaces, you need an account (scroll down on this page to see how) and to LOG IN

(top-right corner)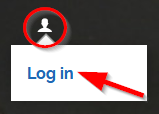 My collaborative spaces :
Available spaces will appear here

Create an account


Click on the « user » icon (top-right corner) → « Log in » → « Register »





(Please check your SPAM/JUNK box for the validation email if necessary)

Access your spaces


To access the list of your spaces (this present page), go to the top-right corner and click on "DIRECT ACCESS" → "Collaborative spaces".


"My spaces list is empty"

Request the creation of a new space for your community or working group (see next tab)
Ask (or wait for) the manager of an existing space to add you to his/her space

Request a new space


First create an account (see 1st tab), then send your request to webmaster@eutopia-university.eu, with the following information :

First name / last name
Email address (the one you used to create your account)
Purpose of the space
Name of the space you want to create*
Private or open* (everyone can see and ask to join)
[Optional] Space description* (visible to the future members)

* can be changed later

Once your space is ready, you will receive an email with instructions on how to access it and get started.

Short user guides

Contact


Have a question, comment, suggestion, or report a bug ? contact webmaster@eutopia-university.eu.
https://train.eutopia-university.eu/collaborative-spaces-eutopia-1
We respect your privacy.
This website uses Google Analytics. By clicking on "Accept cookies" or by navigating on it, you authorize us to deposit a cookie for audience measurements purposes.

En savoir plus
Vous avez donné votre consentement pour le dépôt de cookies de mesures d'audience dans votre navigateur.
Vous vous êtes opposé au dépôt de cookies de mesures d'audience dans votre navigateur.
Le paramètre "Do Not Track" est actif sur votre navigateur. Aucunes statistiques de navigation ne seront collectées.